Both fairs were held in February 2016. Exhibitors at both fairs are mainly Designers and Producers from North of Europe. Trading companies are not exhibiting there, so the shown products are fresh and visionary, designed in the popular Scandinavian style and with surprising effects.
What does Scandinavian design means? And why is their way of design so full of charm to us?
I presume it is the combination of tradition, nature and independence. How enormous the influence of nature is, was shown at the FORMLAND fair, Herning/Denmark, and also at the STOCKHOLM FURNITURE AND LIGHT FAIR during february 2016. The Danish FORMLAND fair were held in cooperation with Japanese Designs and Designers. During the week of STOCKHOLM Mässan the whole city of Stockholm was involved: various shops in Stockholm presented designers there as well at the time of fair.
Design by tradition – no one can ignore that the style of interior, furniture and home-decoration is retrospective. Some traditional and wellknown designers were reanimating their own designs from 1950/60, and young designers were inspired by fashion from this years.
Design by nature - The influence of nature in their designs and colours of Scandinavian exhibitors can't be ignored either. While urban life is simply amazing in terms of jobs, culture and comfort, many cityslickers yearn for nature, some peace and the feeling of safity. Main material is wood. If it is wood, it is always solid. There are two kinds of look. One is worked in a very pure, smooth and noble workmanship and look.
Secondly wood is shown in it's natural growth. Large trays, bowls and some decorations in this style give the impression that product was just excavated from trunk and look rowdy and like a prototype.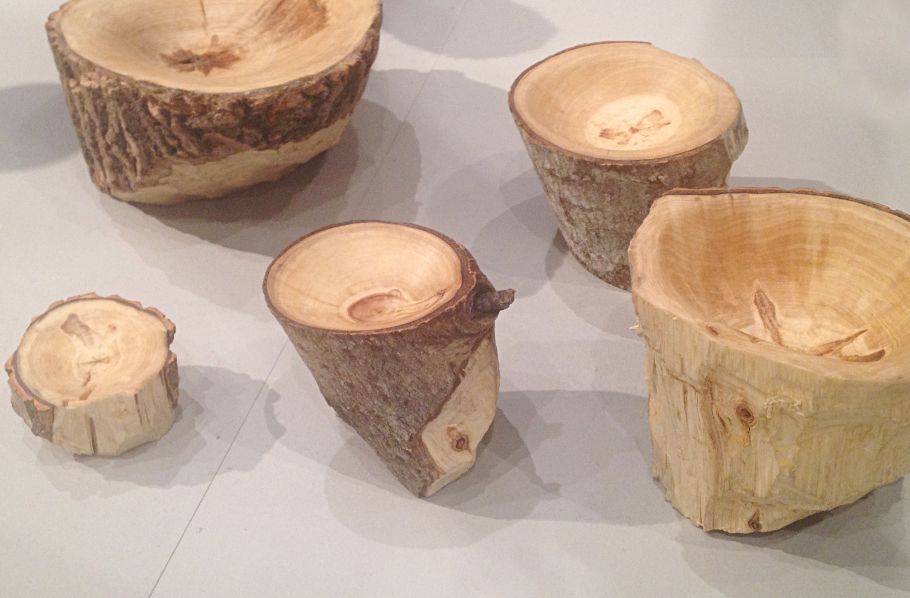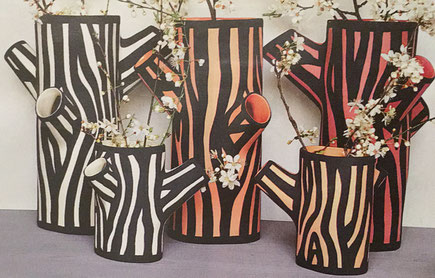 There was also chipboard on furnitures and as wall panelling, not anymore in the industry-style.
Real "trees" and big real plants are seen again in living rooms, bedrooms, entrance halls and are often also in the function of room dividers. Blocks of tree-trunks are used for sitting, slim tree-branches can be put into a large planter or vase as decoration, but could be also used as wardrobes and to hang up whatsoever. Bowls, planters and tablecloth have furthermore the design of tree-bark or texture.
Marble in all colours was a great theme there, shown at many kinds of products. The colours are white with grey, as it is mainly known, but also with rose (cinder rose, not too strong pink), black with white, and could be also done with a touch of gold. Springes, known from marble, are also done and nicely on other materials like paper, textiles, metal, etc.
Terrazzo in many colours is also coming up and is actual on other materials like paper, pens, tablemats, textiles, too. And certainly designed at floors, but also at walls.

The Scandinavian fairs show that ceramic is coming back. Colours in pastel and very much reminding to seas, sky, woods, earth and the shapes are often simple and straight. Nice, when it is done in twotone-colour or two matching surfaces = glossy and dull. According to nature you will find ceramic sometime with just a touch of geometric pattern or one drawing of natural flower, feather, bird, fish etc on it.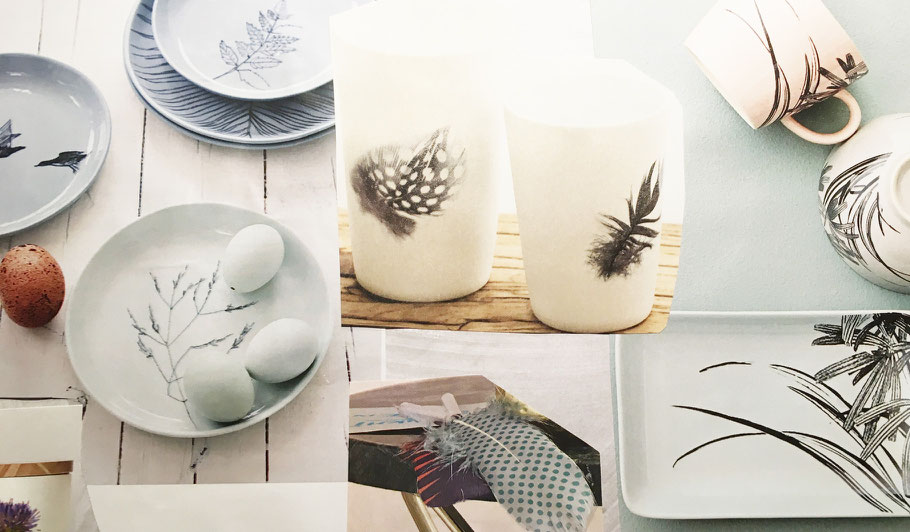 Some other seen natural material is cork. This is often in combination with ceramic for canisters or glassvases, bowls, lampshades and combined with wood in same colour as cork. Even the cork-look could be nice on textiles, papers, etc. Crafted paper is very popular for bins, for planters and just for decoration. Some of this material is also washable … Horn products was seen again in nice and simple shapes. Although it is an ethical issue, you can see real fur from sheeps again, coloured in many different nuances and placed carelessly on sofas and chairs.
As mentioned before room dividers are popular and here phantasy has no limits. Certainly there are still folding paravents made of wood, metal and textiles, but you see surprising new shapes and styles, also hanging and twisted strings, chimes, wooden walls, twigs, paperstripes and hanging plants.
It was surprising how many office-furnitures was exhibited. But why surprising? Work is changing much and working-places needn't that much space anymore. Consequently desks become smaller and slimmer, and since they are done in a good quality and style, they could be placed in living rooms without the look of an real office. Additionally working places are compact and often mobile and flexible.
A whole choice of news and coming trends can be seen in my new trend-book, edition February, 2016. Please don't hesitate to contact me by mail: info(at)coachfortrends.com.
Hamburg, 20.02.2016/em