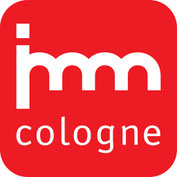 The imm Cologne is a very interesting show with exhibitors of most European countries and some surprising offers of the Eastern European countries, as well as exhibitors from 10 Asian countries.

This fair is important for the spezialized furniture- and interior-trade, but is also a good place to look for news and trends in interior. It was really international, because there were many foreign languages to hear.

What is going on? There is a change in the way of interior, as many people prefer to live inside cities, where space is tight and narrow. There will be a multi-mixture of furniture, textiles, decorations and accessories. There is no more one straight style, everything can be combined with everything to make the own interior-style individually. Same as the people are individual.

It is remarkable that furniture's design is reminding to the style from the 1940 to 1960 years. Significant is that furniture is material-less and light, filigree and simple, often pure. So chairs, tables, shelves, etc can be easily changed to get a new look.

While to live inside cities become popular, nature is a big theme, so materials like wood, glass, stone and metal are most popular. Leather, felt, paper, porcelain and ceramic, cement, natural textiles are of great interest.

Main material for furniture is still wood. But also metal-wire furniture is strong, or metal-details like legs or feet partly at chairs and tables are nice. Industry-furniture is still be seen, but this seems to go back.
The international interiors show, 16.– 24. January 2016
Also stone-material is coming up. Marble with it's light cloudy natural texture is now really trendy.
The look of marble is also popular for wallpapers, beddings and on textiles. Plants are popular in rooms, and often really big trees or bamboo-plants.

Art-inspired wallpapers are in trend and are lovely at some places in rooms, like the kitchen or the bath or in the sleeping room. Popular is to paper only one wall only instead of picture frames. Rugs with interesting designs and patterns are very popular. Room dividers are popular as well.

Light and Lamps are also an interesting story. There is one direction to have opulent lamps, on the other hand punctual light, which makes a light-island in the room. Colour impressions from this fair are: grey in all nuances and intenses, but also pastel colours still are fashionable. Petrol (bluegreen), yellow, and a terra-pink-apricot-colour will be seen in the coming season.

A whole choice of news and coming trends can be seen in my new trend-book, which is available by mid of February, 2016.
Please don't hesitate to contact me by mail: info(at)coachfortrends.com.